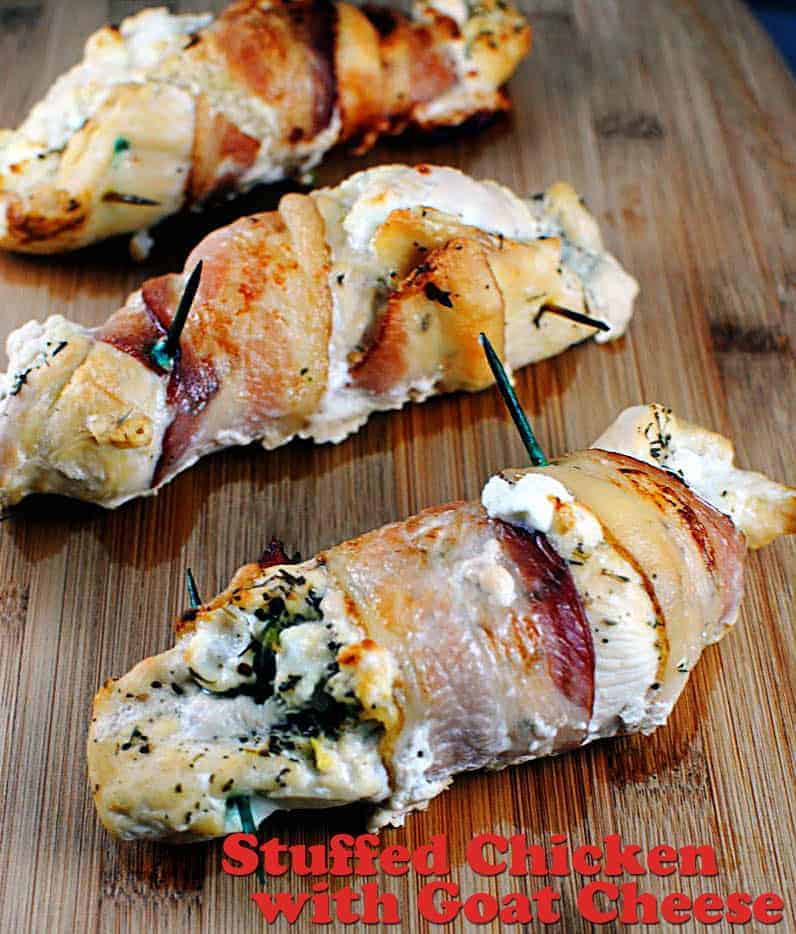 Pass the Sushi's Original Recipe Photo looked like...
Another Pinterest recipe success.... plus a bonus dish below that a friend made for me last year. The chicken dish comes from Pass the Sushi. Here's my take on it. Below you'll find a recipe for Stuffed Bacon Wrapped Dates.
Because once you've opened a pound of bacon, you might was well consume it.
Stuffed Chicken with Goat Cheese
Ingredients
3 chicken breasts
1/4 cup goat cheese
1/2 teas basil
1/2 teas thyme
1/4 black pepper
3 slices bacon
toothpick
Olive Oil
Directions
Slice goat cheese into thin strips.

On a flat surface pound out your chicken to 1/4 to 1/2 inch thick. Sprinkle goat cheese in the center of each piece of chicken and sprinkle basil, thyme and black pepper evenly over each. Using toothpicks to secure, fold the chicken up and wrap in bacon.

Preheat oven to 375 F.

Heat oil in a skillet. Place chicken in skillet and cover for 5 minutes. Rotate and brown on all sides.

Place a new baking dish and bake along with the other dish below for 15 minutes.
Stuffed Bacon Wrapped Dates
Ingredients
Medjool Dates
Bacon
Goat Cheese
Directions
Pit the dates by slicing them open on one side and extracting the pit in the center.

Fill the center with goat cheese.

Cut the bacon in half.

Wrap bacon around the dates and secure with a toothpick.
Both recipes get a 5 out of 5 stars from me.

I might use smaller chicken breasts next time, but otherwise, it rocks.
Enjoy...